Don Quichotte, the Knight of the Lion
Comic chamber balett/opera in two acts
Our project for 2001 was the performance of Georg Philipp Telemann's comic chamber ballet/opera "Don Quichotte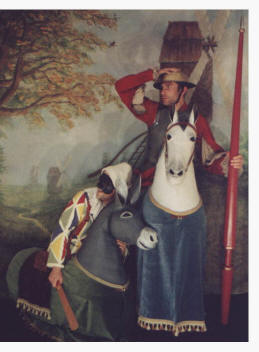 der Löwensritter", (Don Quichotte, the Knight of the Lion) from 1761. With its enchantingly fresh melodies and droll, pointed humor, this seldom- performed German-language work anticipates the Singspiele of Haydn and Mozart. The subject of Don Quichotte and Sancho Pansa - the Spanish pendants to the commedia dell'arte figures of Capitano Spavento and Arlecchino - is also of timeless actuality.
Since the performance of this piece requires only a small number of soloists, and several roles can be taken by one and the same player - as was usual in traveling theater companies of the Baroque era - it is ideal for our ensemble.
The work will be complemented by dances from Telemann's Don Quichotte Suite and other overtures - including a Moors' dance in which the Moors badger Sancho Pansa, an equestrian ballet with Rosinante and the donkey, Comacho's dance, and the dances of the shepherds and shepherdesses. We hope to again fill our audiences with enthusiasm for the enchanting world of the Baroque.

TEATRO ARCIMBOLDO, Basel:
Direction: Thilo Hirsch

Cast:
Don Quichotte - N.N., tenor
Sancho Pansa - Thilo Hirsch, baritone
Quiteria - Sara Bilén, soprano
Pedrilla - Heike Heilmann, soprano
Comacho - Bernhard Gertsch, tenor/dance
Basilio - Thilo Hirsch
Schäferin - Barbara Leitherer, Gudrun Skamletz, dance/recorder/soprano
Schäfer - Bernhard Gertsch, dance/percussion

Orchestra:
Violin: Christoph Rudolf, Vitaly Shestakov
Viola: Roberta Lenzing
Violoncello: Franziska Finkh
Double-Bass: Michael Bürgin
Harpsichord: Angelika Hirsch
Theorbe: Agileu Motta

Choreography: Barbara Leitherer/Bernhard Gertsch
Costumes: Gigliola Vinci (La Scala/Milano)
Scenery: Michael Hein (Theater Basel)


Sponsors:

This production was supported by the following institutions:

Kanton Basel-Landschaft, Erziehungs- und Kulturdirektion

Lotteriefonds Basel Landschaft

Stadt Winterthur

Kultur Aesch

Stanley Thomas Johnson-Stiftung

Jürg George Bürki Stiftung

GGG, Basel

Stiftung der Schweizerischen Landesausstellung 1939

Volkart-Stiftung

Endress+Hauser

Die Mobiliar, Versicherungen & Vorsorge

M. und H. Ritz