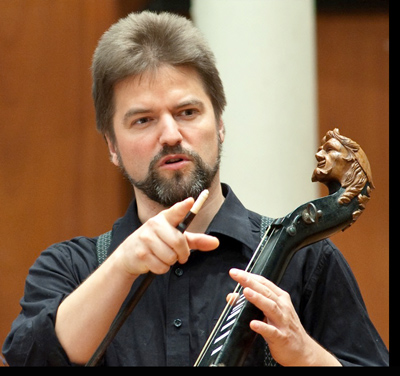 Thilo Hirsch is a graduate of the Schola Cantorum Basiliensis, where he studied viola da gamba with Christophe Coin (diploma 1995, dissertation: The "cantar alla viola" in the 16. century) and singing with R. Levitt and Kurt Widmer. He has been engaged by numerous international ensembles for concerts, CD and radio recordings. His concert tours have already taken him across all of Europe to North Africa, North and South America and Japan. Since 1991 he has been the artistic director of the ensemble arcimboldo, with which he has given numerous concerts and made radio and CD recordings. In 1996, Thilo Hirsch founded the theatre ensemble TEATRO ARCIMBOLDO, whose invitations to many festivals and whose enthusiastic reviews are a testament to its success. 'A sensual treat, delightful music theatre' (Basler Zeitung), 'fascinating dance theatre' (Schwetzinger Zeitung), 'A spectacle for all the senses of a thrilling quality' (Fränkischer Tag), 'An evening that set new standards' (Thüringer Allgemeine) and 'a choice jewel that was acknowledged by the audience with long, stormy applause' (Schwetzinger Woche).
Thilo Hirsch's interest in rare string instruments led him to research the playing of the trumpet marine. He is now one of the few experts on this extraordinary instrument that was much played during the Baroque period.
From 2007 to 2013 he was the co-director of a project of the Swiss National Science Foundation run at the Schola Cantorum Basiliensis, with the topic: 'The Grande Écurie – research and reconstruction of its instruments and its repertoire at the court of Louis XIV and Louis XV' and a BBT/SNF project (2011–2015) with the topic: ''Transformations of Instrumental Sonority exemplified by the Italian Viol'. (Further information is to be found in the internet research database of the Schola Cantorum Basilienis: www.rimab.ch) The "audible" results of these research projects were documented in concerts as well as on CDs recorded by ensemble arcimboldo. Between 2015 and 2018 he worked on the evidence-based reconstruction of a Spanish Renaissance vihuela de arco. A research that also included ethnomusicological studies of the andalusi repertoire and the rabab playing technique in Morocco (funded by ProHelvetia). From 2018 to 2019 Thilo Hirsch studied ethnomusicology at the University of Berne. Since October 2019 he is the project leader of an SNSF research project at the University of the Arts in Berne on the topic "Rabab & Rebec - Research on skin-covered bowed string instruments of the late Middle Ages and the early Renaissance and their reconstruction", on which he is also writing his dissertation at the University of Bern.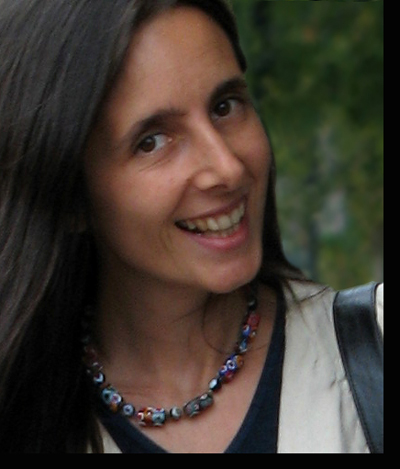 Abril Padilla (1970,Buenos Aires) lives in Basel. She divides her time between instrumental and electro-acoustic composition, improvisation, performing, music for films, the theater and dance. Studies: Conservatory of Buenos Aires (Argentina), Conservatoire National Supérieur de Paris (France), Master's degree in Musicology (University of Toulouse) and the electro-acoustic composition class of Erik Oña (ESB-Hochschule für Musik Basel). Winner of several competitions and awards: SonOhr 2015, Banc-d'essai GRM 2015, Sperber-Jugendförderpreis, "Luc Ferrari" Radiophonic Competition (WDR, Radio Suisse Romande and La Muse en Circuit), Phonurgia Nova, Radiophonic Art of Northern Spanish Radio, City of Bologna. In her compositional work she is interested in exploring links between period instruments and electro-acoustic music, as well as in combining conventional instruments and music produced using found objects.
Recent commissions from the Eunoia Ensemble, ensemble arcimboldo and the ABC cultural centre (la Chaux-de-Fonds, Switzerland).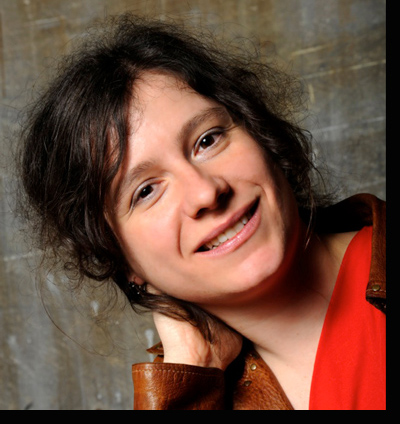 Charlotte Torres (b. 1979) is a composer, improviser and pianist. She first studied classical piano in which she subsequently won several international competitions (International Piano Competition of France, International Competition in Gaillard, first prize in the Radio France Competition). Her interest in improvisation and composition took her to Paris and later to Basel, where she completed a master's degree in free improvisation at the Basel Music Academy in 2011. Her teachers were Eliane Richepin, Roger Muraro, Adilia Alieva, Isabelle Duha and Claude Terranova.
She studied composition under Rainer Boesch, Alain Savouret and Philippe Manoury. From 2010 to 2011 she was guest artist and musical director of the improvisation project of the master's opera programme at the Zurich University oft he Arts (ZHdK). From 2009 to 2010 she worked with the producer Jarg Pataki as an improviser and composer at the Theater am Neumarkt in Zurich. She has already been invited to perform in numerous international festivals such as the Avignon Festival, the Annecy International Animated Film Festival, the Off Beat Jazz Festival Basel 2010.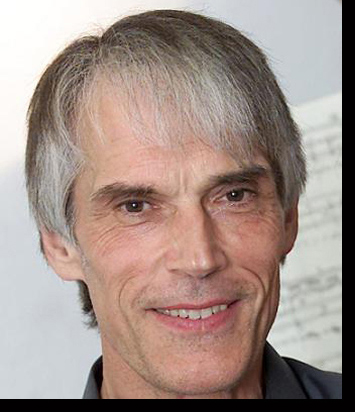 Wilhelm Bruck studierte Gitarre und Laute in Köln. Seit 1966 regelmäßige Zusammenarbeit mit Mauricio Kagel im Kölner Ensemble für Neue Musik. Mitwirkung an zahlreichen Uraufführungen von Kagel sowie von anderen Komponisten. Ab 1968 gemeinsames Studio mit Kagel, Christoph Caskel und Theodor Ross. 1972 Gründung des Gitarrenduos Bruck-Ross, das auch die erste und zweite Fassung des ZWEI-MANN-ORCHESTERS realisierte; weltweit Gastspiele mit einem breiten, oftmals szenisch erweiterten Repertoire. 1980–90 Professur für Gitarre in Karlsruhe.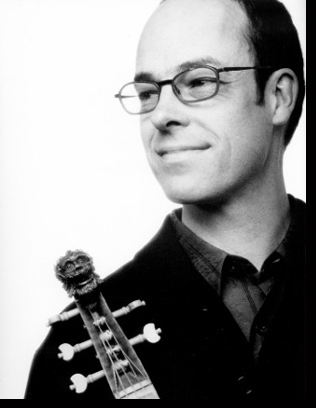 The US-born viola da gamba player Brian Franklin grew up in Toronto, Canada where he first became acquainted with the instrument and its repertoire and came to Basel in 1977 to study with Jordi Savall at the Schola Cantorum Basiliensis. He completed his studies there in 1982 and since 1983 has been teaching in Zurich at the Universtiy of the Arts and the municipal music school and conservatory.
Over the years he has performed internationally with a variety of ensembles, with emphasis in recent years on Renaissance music with "Canti B" and "Ensemble Daedalus" and the vast repertoire of music of the 16th and 17th centuries for viol consort with "Concerto di Viole", "Cellini Consort" and "Marais Consort". Various CDs document the work of these goups.
For over 20 years he performed regularly in Zurich and Basel in concerts contrasting early music with contemporary music for early instruments with "Ensemble Aspecte" (recorder, viol and harpsichord/organ), including first performances of commissioned works.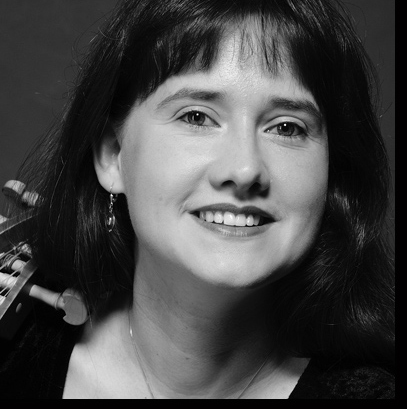 Franziska Finckh studied viola da gamba with Pere Ros at the State Academy of Music in Karlsruhe and completed her diploma with honours. She continued her studies in Basle with Paolo Pandolfo (viola da gamba) and Christophe Coin (baroque cello), receiving the soloist's diploma of the Schola Cantorum Basiliensis in the year 2000. Franziska Finckh won several competitions, including the furtherance prize of the Culture Research Group of the Association of German Industry (BDI) in 1999 as well as the stipend for music of the Art Foundation of Baden-Württemberg in 2003. As a viola da gambist and cellist, she has played in numerous ensembles, including Les Escapades, Trio Voccord, Gli Scarlattisti, the Karlsruhe Baroque Orchestra, Concerto Vocale, Karlsruhe Händel Soloists, the Saarland State Theatre and the Stuttgart State Theatre. She has worked with musicians such as Attilio Cremonesi, Jordi Savall, René Jacobs, Helmuth Rilling, Konrad Junghänel and Christian Curnyn. Concert tours have taken her throughout Europe, to the USA and Russia. Franziska Finckh has a viola da gamba class at the Conservatoire de Musique in Strasburg and regularly gives courses for viola da gamba consorts. CDs have been issued by the labels Carus-Verlag, Salto Records, Chrismon, Organum Classics and Christophorus.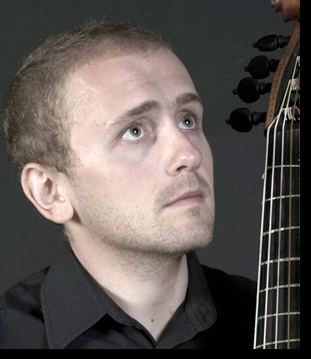 Michael Lang-Alsvik was born in 1982 in Judenburg. His musical talent was evident from early on and appropriately nurtured. At the music-school Fohnsdorf his first instrument was the piano but singing, both in the choir and as a soloist, also took a high priority. It was not long after starting his musical education that he was drawn to start playing the violoncello.
In October 2000 Michael began his studies in Music-Education (majoring in violoncello) and Instrumental/Voice- Education (majoring in singing) at the Kunstuniversität in Graz. Michael completed his Music-Education studies in 2004 with Honours. Michael's interest in the Viola da Gamba was awoken through an ever- deepening connection to Early-music leading him to his studies with Rebeka Ruso at the Kunstuniversität, Graz. Since 2008 he studies Viola da Gamba at the Schola Cantorum Basiliensis with Paolo Pandolfo. He finished his Bachelors studies, his Master studies and a Specialized Masters Program all with the highest possible Honours. In both teaching and performing worldwide, as a soloist and a continuo player, Michael lives in Basel as a freelance musician.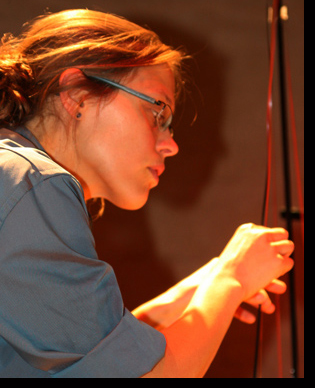 Pianist Helena Bugallo was born and grew up in Argentina. She has been featured at renowned festivals in Europe, Latin America, and the United States: Donaueschinger Musiktage, Warschauer Herbst, Musica Viva München, Wittener Tage für Neue Kammermusik, Musik Triennale Köln, Venedig Biennale, Festival del Centro Histórico Mexiko, Teatro San Martín Buenos Aires, Tanglewood, Ojai Festival, Miller Theater New York, Cal Arts Berkeley, etc. Helena Bugallo is member of the Bugallo-Williams Piano Duo since 1995 and the Ensemble Phoenix Basel since 2006. As soloist, she has performed under the direction of Peter Eötvös, Stefan Asbury, Peter Rundel, und Marcus Creed, with the Sinfonieorchester des Bayerischen Rundfunks, Warsaw Philharmonic Orchestra, SWR Vokalensemble Stuttgart, and Ensemble Resonanz (Hamburg). She has collaborated with numberous composers and recorded for the labels Wergo, Albany Records, Neos, Musique Suisses, and Coviello. She holds music degrees from the Conservatorio Provincial de La Plata (Argentina) and the State University of New York at Buffalo (USA), where she obtained a Master's degree in piano performance and a Ph.D. in musicology. Her doctoral dissertation is on the music of Conlon Nancarrow. She lives and works as independent pianist and musicologist in Basel since 2003.