"If music be the food of love..." This is both the beginning of a Shakespearean comedy set by Henry Purcell, as well as the "golden" thread that runs through the chamber-music/dance-theater program of TEATRO ARCIMBOLDO, an ensemble based in Basel, Switzerland.
In four scenes, the magic of the Golden Age comes to life through the combination of theater, music, dance, and elements of commedia dell'arte: Fileno has to disguise himself as Vespone to ultimately win his beloved Lilla; Captain Hume has to bring to bear all his "English humour" to not lose control of his violistic and amorous escapades; and the dancing shepherdess Lisette also finds happiness in the end, in spite of her encounter with the sinister Doctor Marais.
Exhilaratingly staged, this "commedia" is presented by TEATRO ARCIMBOLDO exploiting all the possibilities of Baroque theatercraft. Love duets, outbreaks of despair, masquerades, dances, and painted stage-backdrops modelled on old illustrations - a wonderful feast for eyes and ears, which carries the listeners away to the world of the Renaissance and the Baroque.

Program:
Scene 1: "Ghirlande amorose"
Music: C. Monteverdi, G. Caccini, G.F. Sances, G. Gastoldi
Text: Molière
Characters: Fileno, Vespone, Lilla, Colombina, Arlecchino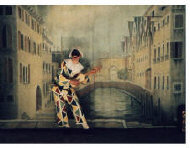 Fileno sings of his love for Lilla ("Si dolce è il tormento"), who he thinks is only interested in Vespone, an old and wealthy bachelor. Lilla, however, reciprocates Fileno's love ("Dolcissimo sospiro"), but wants to make him jealous with pretended affection for Vespone. To put Lilla's faithfulness to the test, Fileno disguises himself as Vespone, but in spite of all his seductive skills all he gets from Lilla is a slap in the face ("Dialogho amoroso"). When Fileno finally discloses his identity, he and Lilla confess their love to one another. During the festivities that follow ("Balletti"), Lilla notices that Colombina also has her eyes on Fileno - much to Arlecchino's dismay. And so Lilla must take recourse to Cupid's weapons to bring Fileno back to his senses.
Scene 2: "A Midsummer Night's Dream"
Music: R. Jones, H. Purcell
Text: W. Shakespeare
Characters: Captain Hume, Mistress Molly Tittles, Arlecchino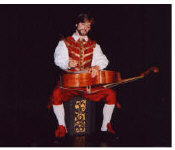 While writing a love letter to Molly Tittles in which he compares his love to the flight of Icarus, who came too close to the sun and fell into the sea with burned wings ("Love wing'd my hopes"), Captain Hume falls asleep. The object of his affections appears in a dream to comfort him ("If music be the food of love") and to encourage his courtship. Awakening, Hume remembers the dream ("My thought this other night") and orders his servant Arlecchino to deliver the letter secretly, without letting Mrs. Hume know about it.
***** Intermission *****
Scene 3: "English humour"
Music: Thomas Ford, Tobias Hume
Characters: Captain Hume, Mrs. Hume, Molly Tittles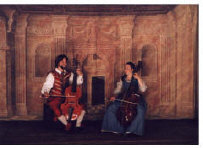 When Hume flirts with Molly Tittles in the presence of his wife ("Shut not sweet breast"), Mrs. Humes reaches angrily for a pistol and shoots her rival. Hume, as a former soldier, remains calm ("Soldier's Song"), yet does not respond to his wife's attempt at reconciliation. Ultimately, he does give in, but exploits the situation so shamelessly that Mrs. Hume flees in the face of his brazenness. After he has now been left by both women, he seeks comfort in "Tobacco". As Hume also has gone, Molly wakes up a last time and bewails her fate ("What greater griefe").

Scene 4: "Fête Champèstre"
Music: Marin Marais, Michel Pignolet de Monteclair
Characters: Arlecchino, Lisette, Doctor Marais, Tircis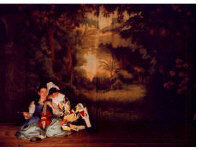 While Arlecchino dances a "Chacoon pour Harlequin", the shepherdess Lisette appears, in whom he immediately falls in love. Only after much coaxing, however, does she consent to dance a sarabande with him ("Les folies d'Espagne"). Night falls gradually. As it becomes darker and darker, the sinister Doctor Marais appears. The cowardly Arlecchino flees, and, after the last wild variation, Lisette falls to the ground as if dead. The Doctor can save Lisette's life in the operation that now follows ("Le Tableau de l'Operation de la Taille"), but she only awakes from her swoon when she is discovered by Tircis, who is picking flowers ("Les délices champestres"). Arlecchino joins them, and together they celebrate Lisette's successful convalescence with song and dance.
Cast:
TEATRO ARCIMBOLDO, Basel
Direction: Thilo Hirsch

Scenery/Costumes:
Michael Hein (Theater Basel)
Atelier für historische Kostüme Meilen
Sponsors:

This production was supported by the following institutions:
Jürg George Bürki Stiftung

Sophie und Karl Binding Stiftung

Stiftung zur Förderung der darbietenden Künste

Jubiläumsstiftung der Zürich Versicherungs-Gruppe

Emil Richterich-Beck Stiftung

Ernst Göhner Stiftung